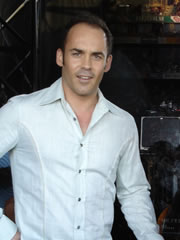 Phil Madsen, one of the guest performers at the Twilight Wine & Food Festival.
Thank you
Those involved in The Twilight Wine and Food Fest would like to sincerely thank each and every person who donated time, resources, and expertise to enable us to hold the event. This event was run by volunteers who wanted to make a difference to the lives of the youth of Nelson. Each person who contributed helped us further this aim.
It was truly gratifying to see such a large turnout. Each person who attended helped us raise a total of over $10,000, which will help the 30 odd young people heading to Sydney later this year for World Youth Day.
We would further like to graciously thank all our corporate sponsors and encourage all Nelsonians to support those businesses which support our community.
Thank you again to each and every person who helped make this event a success. May it be the first of many.
My thanks, on behalf of all those involved with and benefitting from 'The Twilight Wine and Food Fest',
Most sincerely,
Miss Erin Fitzsimons